AI-powered ultrasounds could help save mothers and their babies.
A few weeks ago, we finished the latest round of strategy reviews at the foundation. This is when the leadership hears from various teams about what's going well, what isn't, and how they're adjusting their strategies based on what they've learned. I get long documents filled with information to digest before each review. It's one of my favorite times of the year at work.
Among the meetings that left me feeling especially optimistic was the one with our Maternal, Newborn, and Child Health Discovery and Tools team. As the name implies, they fund work on new tools that can save mothers and children in low- and middle-income countries. I want to tell you about two very cool innovations they're supporting, but first I should give you the context for their work.
As you may remember from the chart of childhood deaths earlier in this letter, childhood deaths have fallen by half since 2000. But within this progress, there's a tragically persistent problem: The number of babies who die in the first 30 days of life—what's known as the neonatal period—is not dropping nearly as fast. Almost 1.9 million newborns died in 2019, only a third fewer than in 2000.
The causes of neonatal deaths are complicated. A death is often the result of several factors that leave the baby especially vulnerable. So to make a dent in newborn mortality, health workers need to deal with these underlying causes as early in the child's life as possible, or even before they're born.
The first step is to identify the women with the greatest risk of complications during pregnancy. In rich countries like the United States, we do this with frequent checkups, lab tests, and an ultrasound. Using images from this scan, health care workers can determine the health of the fetus and placenta, the gestational age and position, and so on.
But in low-income settings, ultrasound machines simply aren't practical. They're bulky and expensive. It takes special training to operate them, as you know if you've ever watched a technician painstakingly move the probe around an expectant mom's belly and mark points on the computer screen. Then the images need to be read by a radiologist or other expert, people who are in short supply in developing countries.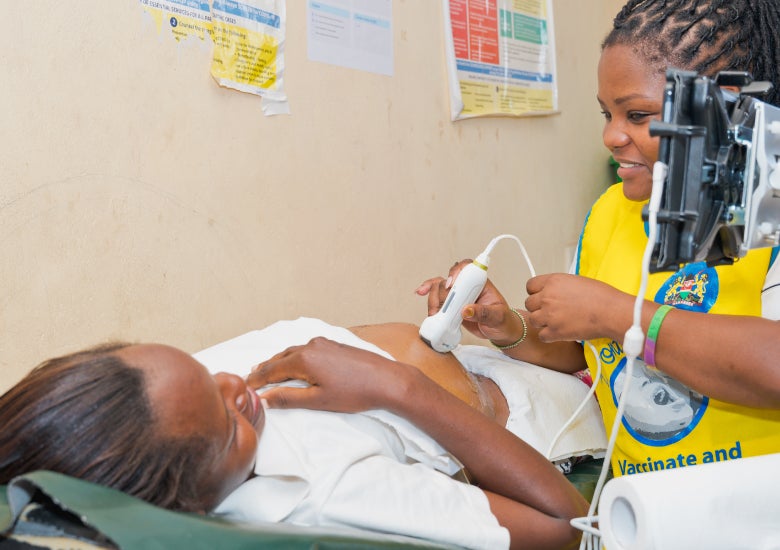 New ultrasound devices, like this one being used by a midwife in Kenya, don't require massive equipment or training—they're plugged into a mobile device and powered by AI.
The foundation and several partners are funding work that will vastly simplify the whole ultrasound process. Instead of wheeling in a big machine on a cart, you just plug a probe into a mobile phone or tablet. You swipe it across the mom's belly a few times, and then up and down. Software uses artificial intelligence to read the images and provide all the information that a trained human would provide.
It's a super-promising new approach. Studies have already shown that it accurately identifies high-risk pregnancies and is actually better than humans at estimating gestational age. Now it's being tested in Kenya and South Africa to see whether using it at scale makes a measurable difference for moms and babies. If it does, we'll bring in more partners to reduce the cost so that more countries can afford it.
By the way, this use of AI is just one example of the positive impact that artificial intelligence can have. Over the next few years, people are going to see the incredible progress in AI. I'm committed to making sure that these advances benefit everyone, and not just people in rich countries—for example, by using AI to help with developing new drugs, diagnosing diseases, and supporting students and teachers, in addition to identifying high-risk pregnancies in the way I've just described.
Of course, using AI to find expectant moms who might need extra medical care is only part of the solution. You also need interventions to treat them. Fortunately, there's great progress on this front too. The story begins with a smart observation by, of all people, a group of eye doctors.
In the mid-2000s, a team of ophthalmologists from around the world was making trips to rural Ethiopia to help contain outbreaks of trachoma, a bacterial disease that causes blindness. In one community after another, kids would line up for banana-flavored doses of the antibiotic azithromycin to knock out the trachoma.
"The foundation and several partners are funding work that will vastly simplify the whole ultrasound process."
Soon the doctors noticed something intriguing: The communities where children got the azithromycin seemed to have lower rates of child mortality than those where they didn't.
To find out whether that was really true—and if so, why it was true—the foundation funded a large study involving about 200,000 children in three countries. When the results came out in 2018, we were thrilled. In places with high rates of child mortality, giving azithromycin preemptively to all children significantly improved the odds that they would survive.
Why would that be? Recently, researchers have been focusing on the idea that many birth problems start long before the baby is born and are connected to conditions in the mother's digestive tract—especially an unhealthy gut microbiome. If the mom doesn't have a good mix of bacteria, viruses, and other microbes, then her gut gets inflamed and can't absorb all the nutrients she needs to stay healthy. Her baby will have the same problems, leading to malnutrition and possibly death.
The study we were so excited about revealed that the azithromycin was killing off bad bacteria in the children's guts, reducing the inflammation and allowing their bodies to absorb essential nutrients. Based on this finding, local groups are now providing azithromycin to children under the age of one in Mali, Niger, and Nigeria, where child mortality rates are especially high. (For more on this fascinating story, see this blog post on the foundation's site.)
After that study was finished, we turned to the next set of questions: Is it possible to reach kids earlier, before they're born? Would it help both the baby and the mom to treat her while she's in labor? What about before she goes into labor, in the second and third trimesters? Two studies involving tens of thousands of women in Africa and South Asia just concluded this year. The findings haven't been published yet, but I'm optimistic that they'll show significant gains for mothers and babies.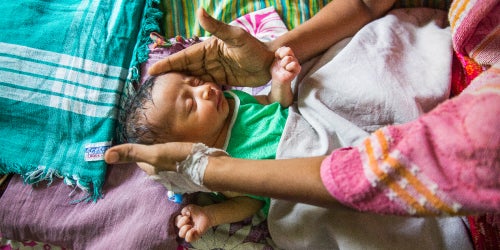 The foundation's grantees are working to make sure that newborns, like this one in Vellore, India, are able to survive and thrive.
Yet even then, this work won't be finished. We still need to find the optimal ways to deliver these interventions along with other foods specially formulated to help pregnant women stay healthy. They'll need to be affordable and tailored to local tastes. Ultimately, our goal is to help health workers identify high-risk pregnancies with inexpensive, easy-to-use ultrasounds and then treat the moms with safe, cheap interventions that will keep them healthy and give their babies a strong start in life.